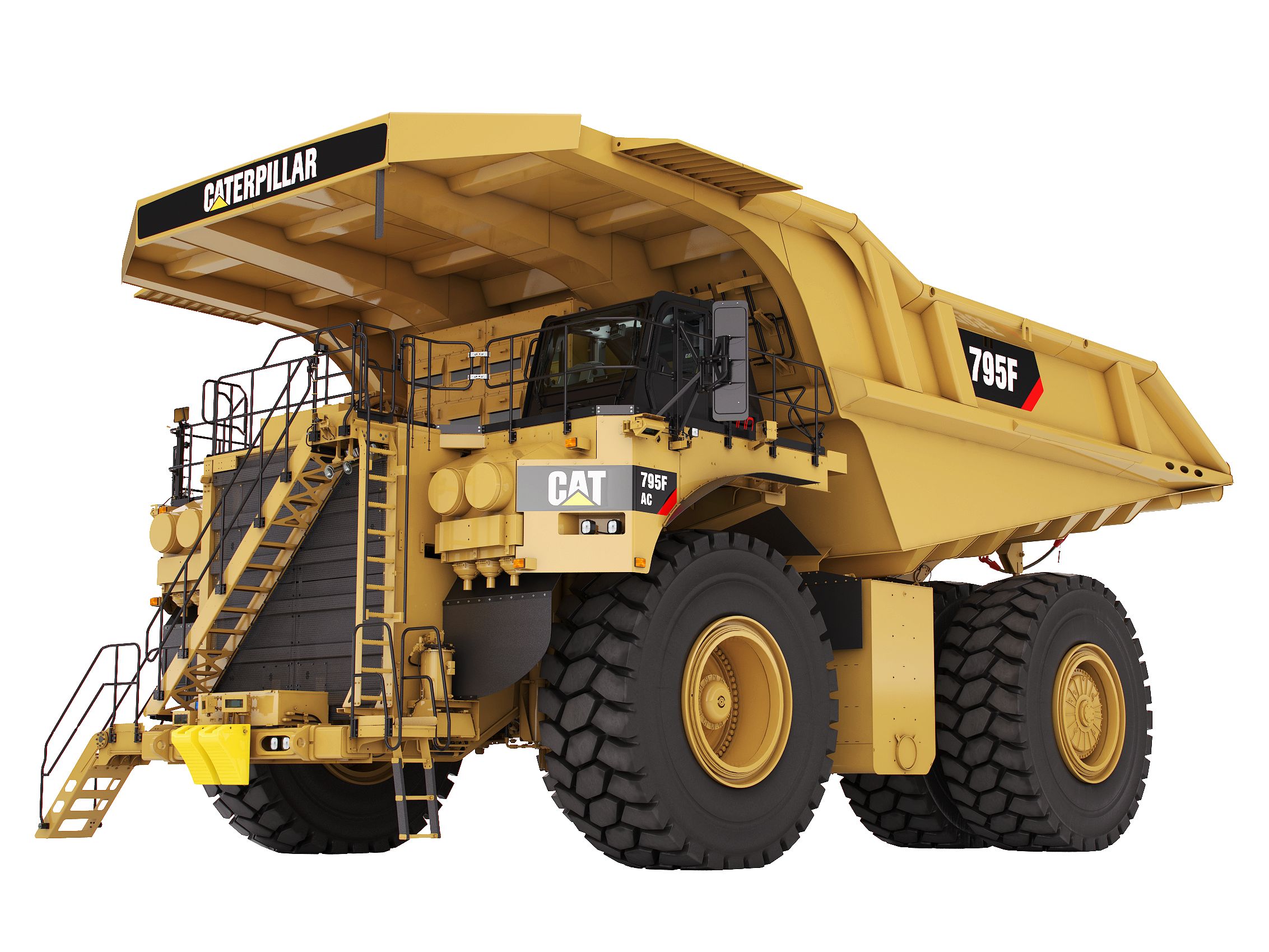 795F AC Mining Trucks
For those applications and situations where you prefer an electric drive truck Caterpillar now offers the 795F AC. The Cat AC drive system provides you the best retarding, braking and control in the industry. Designed and manufactured by Caterpillar, the 795 is the first AC electric drive truck that is single sources from one manufacturer and supported by the best dealer network in the industry.
Standard Equipment
ELECTRICAL
Alarm, Back-up
Brushless Alternator, 150 ampere
Batteries, 210-amp hour, low maintenance, 12-volt (2)
Converter, 12-volt electrical
Electrical System, 24-volt, 10, 15 and 20 amp
Battery Charge Receptacle
Lighting System: - Back-up and Hazard Lights - Directional Signals (front and rear LED) - Front Stair Access/Service Deck - Stop/Tail Lights (LED) - Engine Compartment - VIMS, Blue Light (LED) - Headlights, with Lo-Hi Beam Selector
OPERATOR ENVIRONMENT
Air Conditioner with Automatic Climate Control
12-volt DC Power Supply (3)
Coat Hook
Cup Holder
Diagnostic Connection Port
Dome Courtesy Light
Map Lights (2)
Entertainment Radio Ready: - 20 amp Switched/10 amp Memory Converter, Speakers and Wiring Harnesses
Gauge/Indicators: - Gauge Panel: • Drive Train (system temperature) • Brake Oil Temperature • Engine Coolant Temperature • Fuel Level • Torque Converter Oil Temperature - Electric Engine Control Fault Indicator - Electric Hour Meter - Speedometer - Tachometer
Heater/Defroster, 10 310 kCal (40,912 BTU)
Hoist, Body Control (electric)
Horn (2)
Cat Detect (Radar and Camera) System
Mirrors, Right and Left
ROPS Cab, Insulated/Sound Suppressed
Seat, Operator, Air Suspension
Seatbelt, Operator, Three Points, Retractable
Seatbelt, Trainer, Two Points, Retractable
Stairway and Walkway Access, 600 mm (23.6 in)
Steering Wheel, Tilt, Padded, Telescopic
Storage Compartments
Tinted Glass
Transmission Gear Indicator
VIMS Message Center with Advisor
Window, Operator, Electric Powered
Windshield, Wiper Intermittent Control and Washer
POWER TRAIN
Cat C175-16 Tier 2 Emissions Compliant Engine: - Air Cleaner with Precleaner (4) - Air-to-Air Aftercooler (ATAAC) - Automatic Starter Protection - Ether Starting Aid (automatic) - Multi-Point Oil Pressure Sensing - Turbocharging (4)/Aftercooled
Braking System: - Automatic Retarder Control, Adjustable - Brake Release Motor (towing) - Engine Overspeed Protection - Extended Life Brake Disc Material - Oil-cooled, Multi-disc (front and rear): • Service, Retarding, Parking, Secondary - Park Brake Integrated with Gear Selector - Secondary, Emergency
Cat AC Drivetrain: - IGBT controlled AC induction motors - AC generator - AC cooled radial grid - Body-up Reverse Neutralizer - Body-up Shift Inhibitor - Directional Shift Management - Neutral Coast Inhibitor - Neutral Start Switch - Programmable Top Speed - Reverse Shift Inhibitor
Pre-lubrication/Engine
Rear Axle Continuous Lubrication/Filtration
OTHER STANDARD EQUIPMENT
Air Starter, Turbine
Air System Dryer
Automatic Lubrication System
Aux "Buddy" Dumping Quick Connect
Aux Steering Quick Connect (towing)
Blended Retarding System
Driveline Guards
Exhaust
Fuel Tank, 3596 L (950 gal)
Fast Fill Fuel System
Fuel Filter with Water Separator
Ground Level Battery Lockout
Ground Level Engine Shut-down
Ground Level Engine Start Lockout
Ground Level Machine Lockout
Ground Level Transmission Lockout
Ground Level VIMS Data Port
Hi-speed Crankcase Oil Change
Hydraulic Filters, 1,000 hour
Payload Indicator Lights
Reservoirs (2 separate): - Brake/Hoist, Steering/Fan
Rock Ejectors
Service Points, Ground Level
Sight Level Gauges for Hydraulic/Engine Oil
S·O·S Sample Ports
Supplemental Steering (automatic)
Tie Down Eyes
Tow Hooks and Pin (front): - Tow Pin (rear) (Empty truck only)
Traction Control System
Vandalism Protection Locks
Vital Information Management System (VIMS): - Includes VIMS Payload Monitor with MAX Payload and Speed Manager: • VIMS 3G requires download cable 305-5528 VIMS 3G Connect PC software (reference media number EERP2001) and VIMS PC software JERD2175. Supplemental software "VIMS Supervisor" YERA1403. Order separately. Computer not provided.
ANTIFREEZE
Extended Life Coolant to -35° C (-30° F)
Optional Equipment
Body
MSD II Body: • Body, MSD II, 181 m3 (237 yd3) • Body, MSD II, 220 m3 (288 yd3)
MSD II Body Attachments: • Extensions, 400 mm (~15 in) 206 m3 (270 yd3); Fits 181 m3 (237 yd3) body • Extensions, 395 mm (~15 in) 237 m3 (310 yd3); Fits 220 m3 (288 yd3) body • Extensions, 550 mm (~21 in) 248 m3 (324 yd3); Fits 220 m3 (288 yd3) body • Extensions, 675 mm (~26 in) 252 m3 (330 yd3); Fits 220 m3 (288 yd3) body
Films, Body
Gateless Coal Body: • Body, Gateless Coal, 352 m3 (460 yd3)
Gateless Coal Body Attachments: • Extensions, 440 mm (~17 in) 382 m3 (500 yd3) • Extensions, 875 mm (~34 in) 413 m3 (540 yd3) • Extensions, 1060 mm (~41 in) 428 m3 (560 yd3)
Body Mounting Groups
MSD II Body
Gateless Coal Body