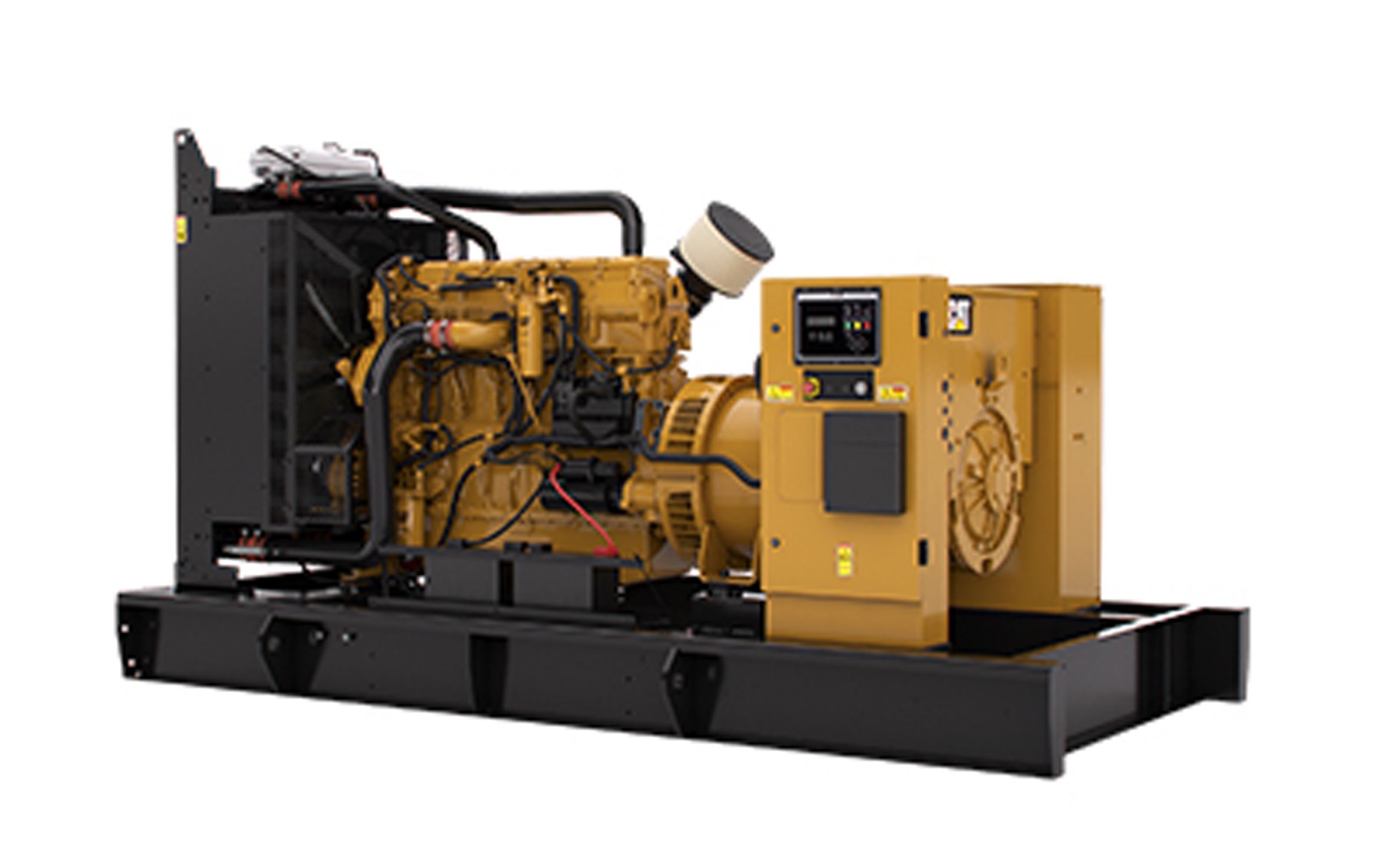 C15 Generator Set
Producing reliable power from 320 ekW to 500 ekW at 60 Hz, our C15 diesel generator sets are built for standby and prime applications and built to your power standards. Each are engineered to ISO 8528-5 transient response requirements and designed to accept 100 percent rated load in one step. Our C15 generator sets range from low fuel consumption systems to EPA Tier 4 Interim certification. We plan for the unpredictable, which is why all models are made to meet seismic certification. Our integrated control system, including ATS and switchgear, keeps your power constant and keeps you connected to your fleet with on-site and remote monitoring capabilities. Access management and diagnostics tools with our easy to use EMCP 4 control panels, which provide expandable functionality from basic generator set monitoring, control, and protection to full multi gen paralleling. We offer accessories and bolt-on system expansion attachments to help you meet specific power needs. Flexible packaging options work with your spatial restrictions and climate. Even select from UL 2200 and CSA certified packages for added safety.
Standard Equipment
Air System
Air Cleaner - Non Canister disposable paper filter
Aftercooler core
Turbocharger
Control Panel
Cooling System
Radiator and cooling fan with guard
Coolant drain line with valve
Fan drive, battery charging alternator drive
Caterpillar Extended Life Coolant
Exhaust
Standard open set fuel tank / base supplied
Base, formed steel with single wall integral 8-hour fuel tank
Fuel System
Primary fuel filter w/integral water separator & secondary filter
Fuel cooler
Fuel priming pump
Flexible fuel lines
Engine fuel transfer pump
A frame generator - IP21 Protection
Generator and Attachments
Optional LC frame generator - IP23 Protection
Integrated Voltage Regulator
Power center, IP22
Segregated low voltage (AC/DC) wiring panel
Mandatory Option circuit breaker, IEC, 3 pole, mounted in power centre
Governing System
Cat Electronic Governor (ADEM A4).
Lube System
Oil cooler
Oil drain valves
Mounting System
Captive linear vibration isolators between base and engine-generator includes lifting provisions and termination points for coolant and lube oil drain lines
Starting/Charging
24 Volt battery with rack and cables
General
Engine and alternator pre paint, Caterpillar yellow
Optional Equipment
Air Inlet System
Single element air cleaner
Dual element air cleaner
Certifications
EU certificate of conformance
Global certification for CIS
Circuit breakers
3 Pole (IEC-100% rated) circuit breakers - Package mounted
4 Pole (IEC-100% rated) circuit breakers - Package mounted
3 Pole (IEC-100% rated) circuit breakers - Motorised
4 Pole (IEC-100% rated) circuit breakers - Motorised
Auxiliary contacts, circuit breaker
Shunt trip for IEC circuit breaker
Pad-lockable circuit breaker device
Power terminal strip
Control Panels
EMCP 4.3, EMCP 4.4
Volt free contacts
Local alarm horn
Oil temperature displays
Protective devices: Earth fault relay ; Earth leakage ground fault relay ; Overload shutdown via breaker ; Low fuel level alarm ; Low fuel level shutdown ; High fuel level alarm ; Fuel level sensor
Local annunciator
Remote annunciator
Cooling System
Radiator duct flange
Stone guards
Low coolant temperature alarm
Enclosures
Sound attenuated enclosures
High ambient sound attenuated enclosures
Exhaust System
Engine mounted muffler
End in / End out mufflers - 10, 25 and 35 dBA attenuation
6 and 8 inch flange GP
Flexible exhaust fittings
6 and 8 inch elbow kit
Manifold and turbocharger guard
Fuel System
Dual wall fuel tank base
Manual fuel transfer pump
Fuel transfer system controls
Generator and Attachments
Ingress protection
Permanent magnet generator
Space heaters
Oversize A frame generator
CIP a frame generator
LC frame generator
Oversize LC frame generator
LC frame CIP generator
Lube System
Mounting System
Narrow skid base - replaces standard fuel tank base
Special Test / Reports
PGS Test report @ 1.0 power factor
PGS Test report @ 0.8 power factor
Starting / Charging System
5 Amp single battery charger
Battery disconnect switch
Jacket water heater