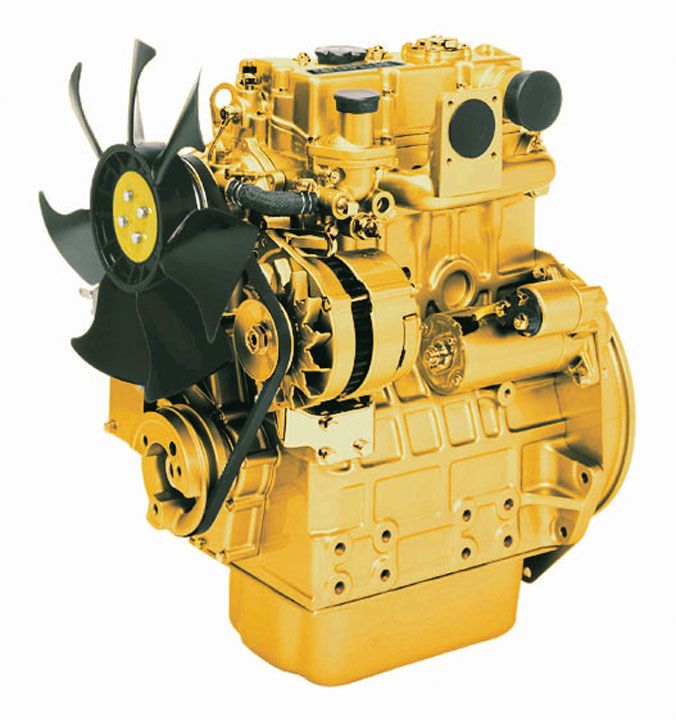 Cat® C1.5 Diesel Engine
Cat® C1.5 Industrial Diesel Engines deliver impressive performance throughout a wide speed range with exceptional power density. Their ultra-compact package size and extensive choice of options ensures these engines are ideal for a wide range of small, off road applications. Single-side servicing improves ease of maintenance and lowers overall owner operating costs. Applications powered by C1.5 engines include: Agriculture Tractors, Combines and Harvesters, Aircraft Ground Support, Bore/Drill Rigs, Chippers, Grinders, Compactors, Rollers, Compressors, Construction, Irrigation, Pumps, Turf, Landscaping, Mobile Earthmoving, Paving, Trenchers, Underground Mining, and Material Handling. C1.5 engines, with ratings: 20.9-30 bkW (28-40.2 bhp) @ 2200-3000 rpm, meet EPA Tier 4 Interim equivalent emission standards. They are available using U.S. EPA Flexibility, and for other regulated and non-regulated areas.
Standard Equipment
Air Inlet System
Inlet manifold with choice of inlets.
Control System
Alternator 12 volt 65 amp
Starter motor 12 volt
Glow plug starting aid
Tier 4 Final: Alternator 12V 85 amp
Cooling System
Belt-driven coolant pump
Coolant temperature switch
Choice of cooling fans
Flywheel & Flywheel Housing
Naturally Aspirated: SAE No. 7 1/2 flywheel
Turbocharged: SAE No. 6 1/2 or SAE No. 7 1/2 flywheel
EPA Tier 4 Final Turbocharged: SAE No. 7 1/2 flywheel
Naturally Aspirated: Choice of SAE No. 4 or standard backplate flywheel housing
Turbocharged: Choice of SAE No. 4 or SAE No. 5 or standard backplate flywheel housing
Tier 4 Final Turbocharged: Choice of SAE No. 4 or SAE No. 5 or standard backplate flywheel housing
Fuel System
Fuel injection pump
Spin-on fuel filter
Electronic Shut-off Solenoid (ESOS)
Lube System
Alternative oil fillers
Spin-on lube oil filter
Lube oil pressure switch
Lube oil sump
General
Cast iron, engine block
Cast iron exhaust manifold--side outlet
Cold start capability to -20° C (-4° F)
Gradeability 35° continuous
Paint: Caterpillar yellow, with optional colors available at request
Optional Equipment