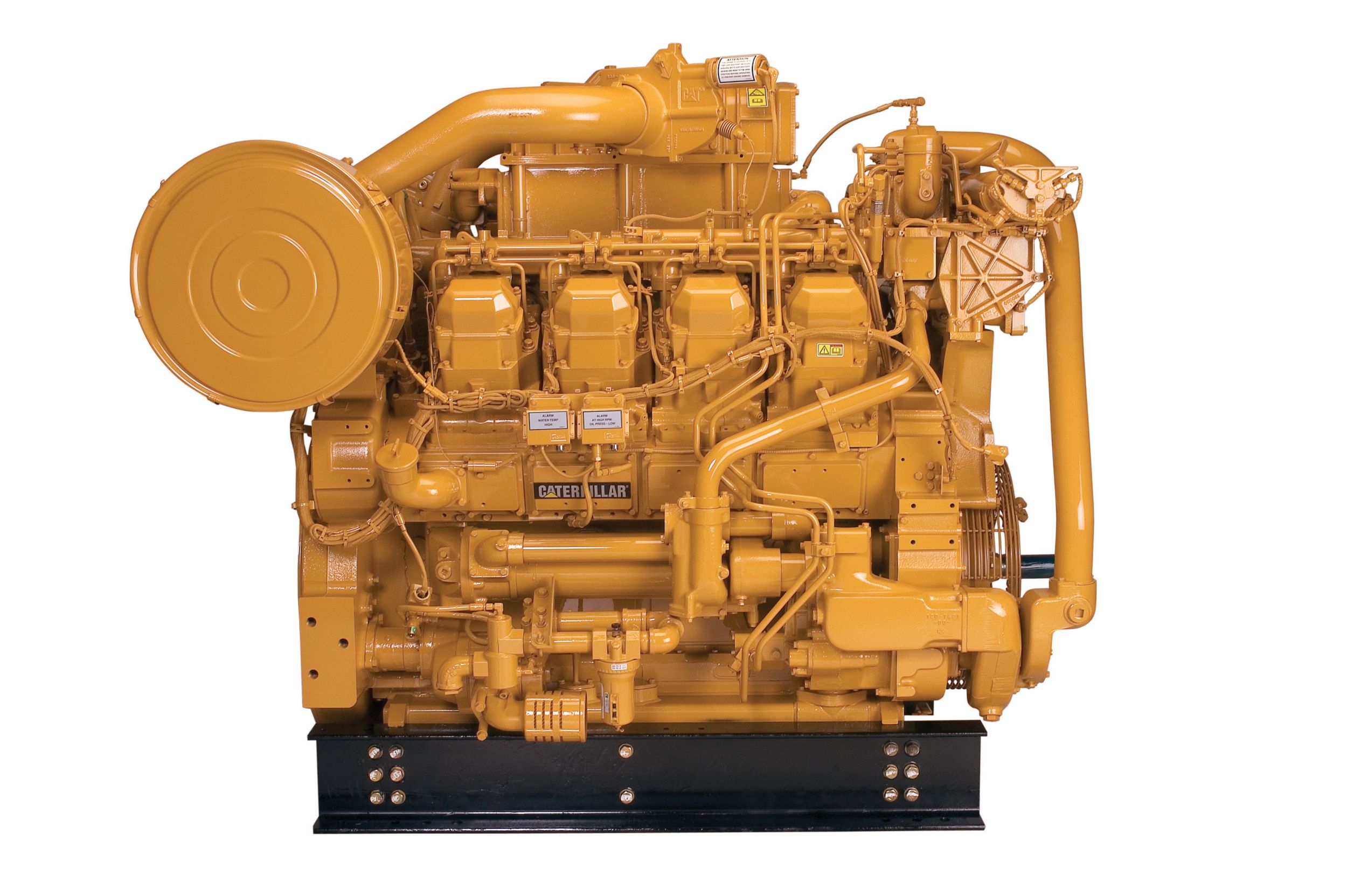 Specs Summary
Minimum Rating
900 BHP (671 bkW)
Maximum Rating
900 BHP (671 bkW)
Emissions
( )
Rated Speed
1200 r/min (1200 r/min)
3508C Land Mechanical Drilling Engine
Cat 3508C engines set the standard in the drilling industry. For many years the 3500 has been the preferred choice by drillers due to their high performance, durability, and reliability in the oilfield while maintaining low emissions.The ideal application for the 3508C engine is mechanical drive for land drilling rigs.Cat engines are backed by the worldwide network of Cat dealers ready to support your operation with technical support, service, parts, and warranty.3508C engines, with ratings: 671 bkW (900 bhp) @ 1200 rpm meet U.S. EPA Non-road Tier 2 equivalent and CARB Tier 2 equivalent emission standards. They are available using U.S. EPA and EU Flexibility, and for other regulated and non-regulated areas.
Minimum Rating 900 BHP (671 bkW)
Maximum Rating 900 BHP (671 bkW)
Emissions ( )
Rated Speed 1200 r/min (1200 r/min)
Bore 6.69 in (170 mm)
Stroke 7.48 in (190 mm)
Displacement 2111 in³ (34.5 l)
Aspiration ( )
Governor and Protection ( )
Engine Weight - Net Dry 10101 lb (4582 kg)
Rotation from Flywheel End ( )
Oil Change Interval ( )
Flywheel and Flywheel Housing ( )
Flywheel Teeth ( )
Minimum Cooling System - Engine Only 27.2 gal (US) (103 l)
Length 84.1 in (2136 mm)
Width 67 in (1702 mm)
Height 79.7 in (2024 mm)
Standard Equipment
Air Inlet System
Separate circuit aftercooler core — corrosion resistant coated (airside), air cleaner (single element w/service indicator)
Dual rear-mounted turbochargers
Control System
ADEM A3 ECU — LH
Electronic fuel injector fuel system (10 amp DC power required todrive electronic engine control unit)
Cooling System
Torque converter connections
Thermostats and housing, jacket water pump, gear-drivencentrifugal
Connections for radiator cooling
Dual outlets: 88.9 mm O.D. (3.5 in) elbow hose connections
Separate Circuit Aftercooler (SCAC)
Exhaust System
Exhaust manifold — dry, stainless steel bellows
Dual turbochargers with watercooled bearings
Exhaust outlet: 292 mm I.D. (11.5 in), 12-10.5 mm dia. holes EQ SP,376 mm bolt hole dia.
Flywheels and Flywheel Housing
Flywheel, SAE No. 0 — 151 teeth
Flywheel housing — SAE No. 0
Fuel System
Primary fuel filter
Fuel priming pump
Fuel filter — RH spin-on type
Fuel transfer pump
Electronically controlled unit injectors
Instrumentation
Electronic instrument panel
Instrumentation readouts:
Lube System
Crankcase breather — top-mounted
Oil cooler
Oil filler and dipstick — RH
Oil pump
Oil filter — RH spin-on type
Rear sump oil pan, 250-hour change interval
Oil pan drain valve — 3/4" NPT female connection
Mounting System
Rails — mounting, floor type
Power Take-Offs
Front housing — two-sided
Protection System
ADEM A3 ECU system to provide customer-programmableengine deration strategies to protect against adverse operatingconditions
Emergency stop logic inputs provided at 40-pin customer interfaceconnection
Air inlet shutoff
General
Paint — Cat yellow
Vibration damper and guard
Lifting eyes
B-Series LAND
Optional Equipment
Air Inlet System
Air cleaner and air cleaner mounting
Remote air inlet adapters
Air inlet heater
Charging System
Battery chargers
Charging alternators
Control System
Local speed throttle control
Throttle position sensors
Load sharing modules
Governor conversion
Cooling System
High gloss black folded core radiators
Coolant regulator conversion
Belt guard and radiator guard
Blower fan
Radiator cover
Fan drive and fan pulleys
Water level switch gauge
Coolant level sensors
Coolant conditioner
Expansion tank
Heat exchanger cooling conversion
Auxiliary water pump
Air separator
Exhaust System
Flexible exhaust fitting
Elbows and flange
Flange and exhaust adapters
Manifold and mufflers
Fuel Systems
Flexible fuel lines
Fuel cooler
Water/fuel separator
Fuel level switch
Instrumentation
Customer management device
Remote panel display and remote cylinder temperature display
Switches and contactors
Gauges and instrument panels
Lube System
Fumes disposal
Oil pans
Prelube options
Sump pumps
Oil Filters
Mounting System
Power Take-Offs
Front housing
Flexible couplings
Coupling hub
Front accessory drives
Auxiliary drive shaft
Auxiliary drive pulleys
Front stub shaft
Damper guard removal
Pulleys
Flywheel stub shaft
Protection System
Shutoffs
Switches and contractors
Explosion relief valve
Sensors
Oil pressure monitor
Shutoff controls
Corrosion protection
Starting System
Air starting motors — electric
Air pressure regulator
Air silencer
Air start controls — manual, electric
Redundant start
Starting aids
Battery sets – 24V
Battery cable and battery rack