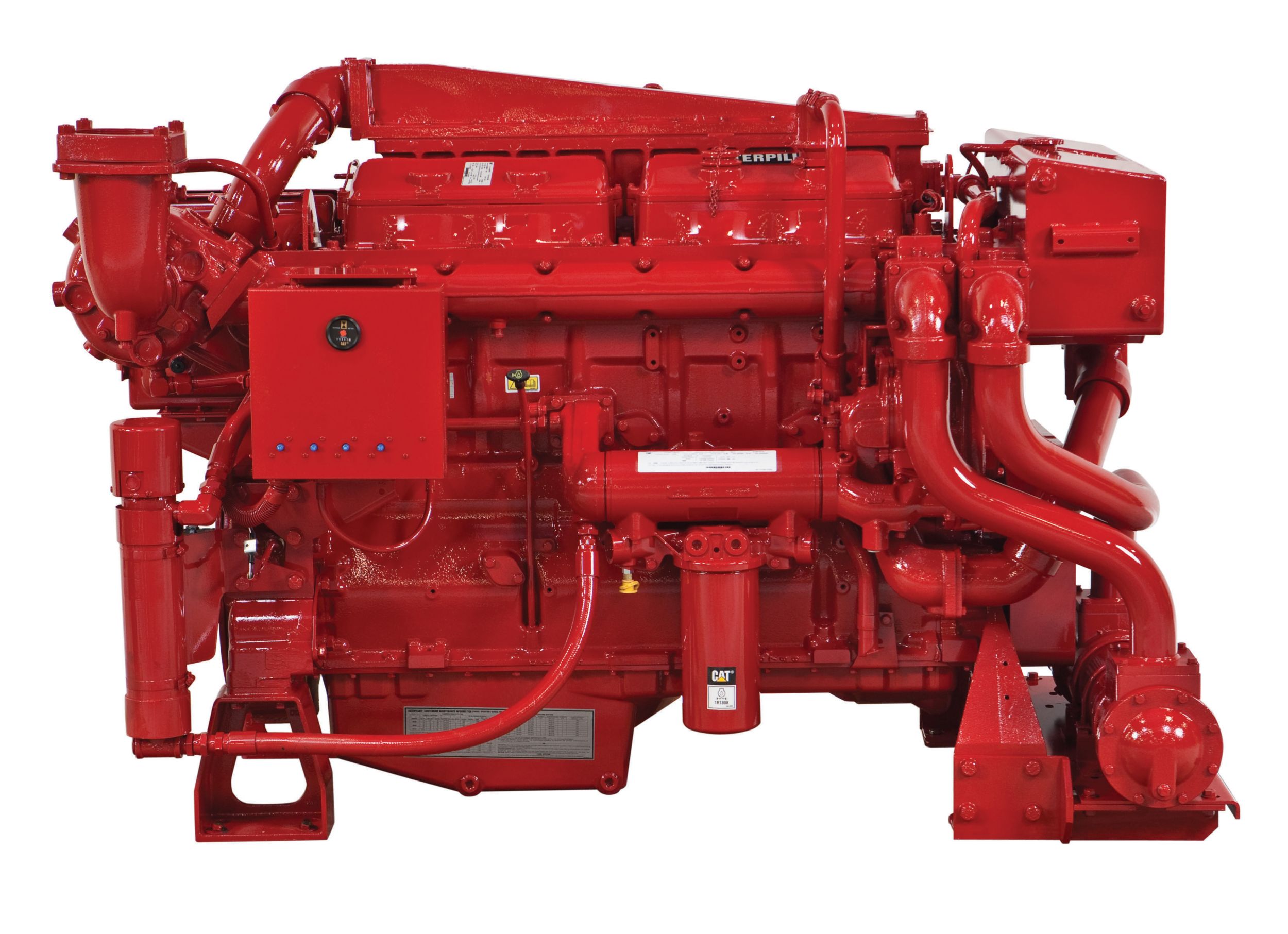 Specs Summary
Maximum Power
739 HP (551 kW)
Emissions
( )
Rated Speed
( )
Minimum Power
638 HP (476 kW)
Cat® 3412C Fire Pump
Cat® 3412C Industrial Diesel Fire Pump Engines, with ratings: 476-551 kW (638-739 hp) @ 1750-2100 rpm, are non-certified and are available for global non-regulated areas. They are not FM Approved and not UL Listed. Starting on demand is a must for a fire pump engine - always. Cat® fire pump engines have a reputation for reliable starts and long efficient service. The Cat line of fire engine pumps covers a wide range of installations.
Maximum Power 739 HP (551 kW)
Rated Speed ( )
Minimum Power 638 HP (476 kW)
Emissions ( )
Engine Configuration ( )
Bore 5.4 in (137 mm)
Stroke 6 in (152 mm)
Displacement 1648 in³ (27 l)
Compression Ratio ( )
Aspiration ( )
Rotation from Flywheel End ( )
Aftertreatment ( )
Length 78.7 in (2000 mm)
Height 55.6 in (1413 mm)
Weight - Net Dry - Basic Operating Engine Without Optional Attachments 5686 lb (2579 kg)
Standard Equipment
Air Inlet System
Air cleaner, regular duty with service indicators
Turbocharged
Cooling System
Thermostats and housing
Jacket water pump, centrifugal
Heat exchanger installed
Expansion tank
Control System
Charging alternator 24 volt, 35 amp
Governor control
Hydra-mechanical governor
Exhaust System
Exhaust manifold
Exhaust elbow, dry. 203 mm (8 in) on all Turbocharged engines and Turbocharged Aftercooled with wet exhaust. 152 mm (6 in) on Turbocharged Aftercooled with dry manifolds.
Flywheels & Flywheel Housings
SAE No. 0 flywheel
SAE No. 0 flywheel housing
SAE standard rotation
Fuel System
Fuel filter
Fuel transfer pump
Primary fuel filter
Fuel priming pump
Instrumentation
Instrument panel, LH
Engine oil pressure gauge
Fuel pressure gauge
Water temperature gauge
Tachometer
Lube System
Crankcase breather, top mounted
Oil cooler
Oil filler in valve cover and dipstick, both RH
Lube oil filter
Rear sump oil pan
Mounting System
Power Take Off
Power take-off (PTO) flywheel stub shaft
Protection System
Stop-Start System, automatic (compatible with NFPA 20 requirements, able to be energized from either of two battery sources and capable of manual starter actuation)
Starting System
24 volt, LH electric starting motor
Jacket water heater (6 kW, 240-480 volt)
General
Paint: Firepump Red
Vibration damper and guard
Lifting eyes
Optional Equipment