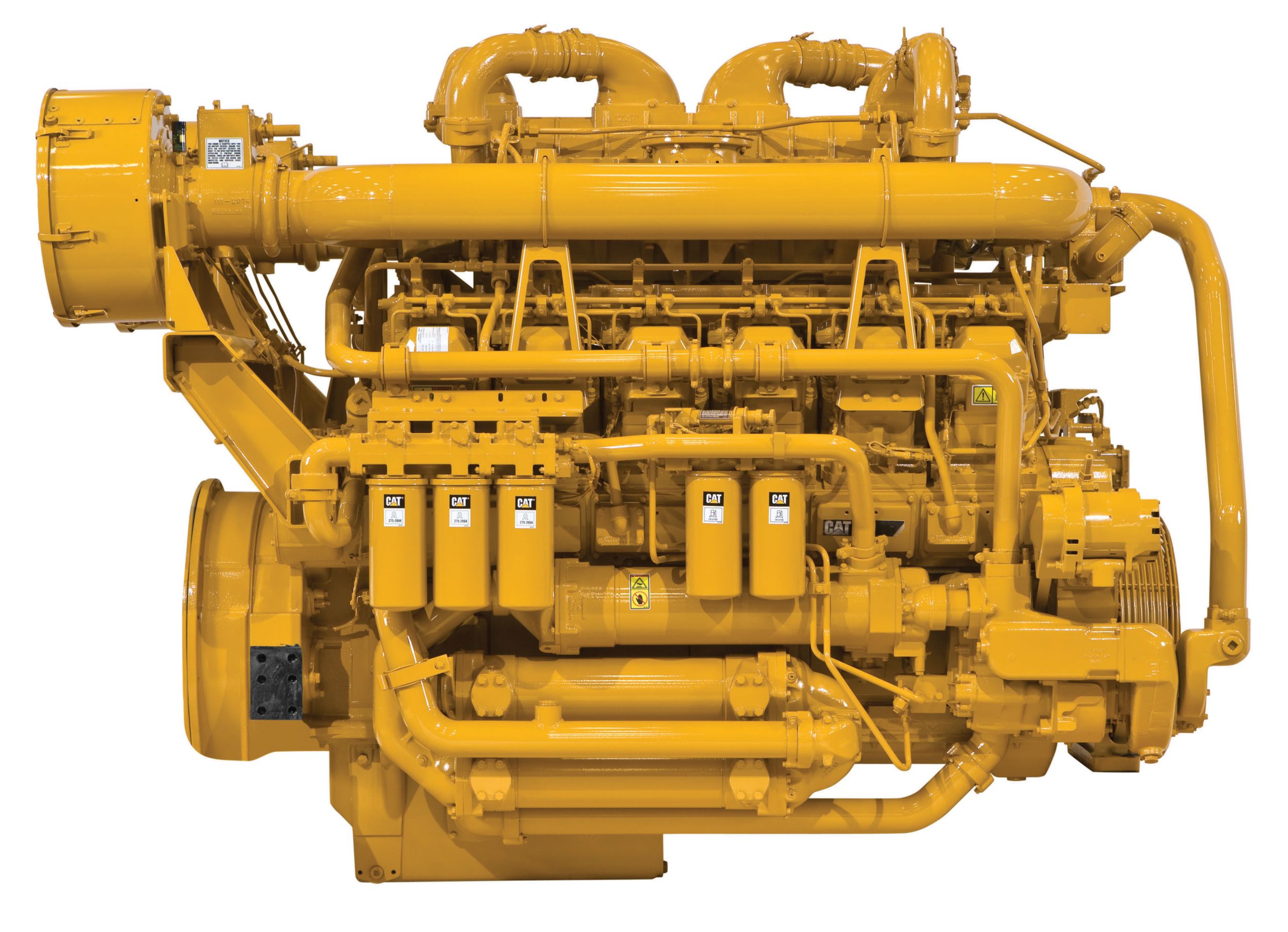 Specs Summary
Maximum Power
1650 HP (1231 kW)
Maximum Torque
5296 lb-ft @ 1300 rpm (7180 Nm @ 1300 rpm)
Emissions
( )
Rated Speed
( )
Cat® 3512B Industrial Diesel Engine
For your largest power needs in any environment, Cat® 3512B Industrial Diesel Engines offer the unsurpassed performance and durability your customers need to keep their industrial applications and operations running. They deliver high power output, proven reliability and excellent fuel efficiency. These engines maintain low operating costs to keep your customers profitable for years to come. Industries and applications powered by 3512B engines include Bore/Drill Rigs, Chippers/Grinders, Construction, Cranes, Dredgers, Forestry, General Industrial, Material Handling, Mining, Mobile Earthmoving Equipment, Pumps, Shovels/Draglines, Surface Hauling Equipment and Trenchers. These 3512B engines, with ratings: 1119-1231 bkW (1500-1650 bhp) @ 1800 rpm, are non-certified. They are available for global non-regulated areas.
Maximum Power 1650 HP (1231 kW)
Maximum Torque 5296 lb-ft @ 1300 rpm (7180 Nm @ 1300 rpm)
Rated Speed ( )
Minimum Power 1500 HP (1119 kW)
Emissions ( )
Engine Configuration ( )
Bore 6.7 in (170 mm)
Stroke 7.5 in (190 mm)
Displacement 3158 in³ (51.8 l)
Aspiration ( )
Rotation from Flywheel End ( )
Aftertreatment ( )
Width 70.3 in (1785 mm)
Height 71.1 in (1806 mm)
Weight - Net Dry - Basic Operating Engine Without Optional Attachments 13400 lb (6078 kg)
Length 120.8 in (3067 mm)
Standard Equipment
Air Inlet System
Aftercooler core, corrosion resistant coated (air side)
Air cleaner. Regular duty, dry, panel type with service indicators, turbocharger, jacket water aftercooled.
Turbocharger, rear mounted
Jacket water aftercooled
Control System
Governor, RH, 3161 with self contained synthetic oil sump
Air-fuel ratio control
Mechanical speed control, without torque control
Governor control
Positive locking
Cooling System
Thermostats and housing
Jacket water pump, centrifugal
Exhaust System
Flywheels and Flywheel Housing
SAE No. 00 flywheel
183 flywheel teeth
SAE No. 00 flywheel housing
Fuel System
Fuel filter, with service indicators, cartridge type with RH service
Fuel transfer pump
Instrumentation
Instrument Panel, RH
Engine oil pressure gauge
Fuel pressure gauge
Oil filter differential gauge
Jacket water temperature gauge
Service meter, electric
Tachometer
Lube System
Crankcase breather, top mounted
Oil cooler
Oil filler
Oil dipstick
Oil pump
Oil filter, cartridge type with RH service
Shallow oil pan
Fumes disposal (not installed)
Mounting System
Rails, mounting, engine length, 254 mm (10 in), industrial-type, C-channel.
Power Take Off
Accessory drive, upper RH
Front housing, single sided
Protection System
Junction box
Manual shutoff, RH
Safety shutoff protection, energized to shutdown
Low oil pressure, low idle 69 kPa (10 psi); high idle 207 kPa (30 psi)
Water temperature
Overspeed
3161 governor solenoid energized to shutdown
Starting System
General
Vibration damper
Lifting eyes
Paint: Caterpillar yellow, with optional colors available at request
Optional Equipment