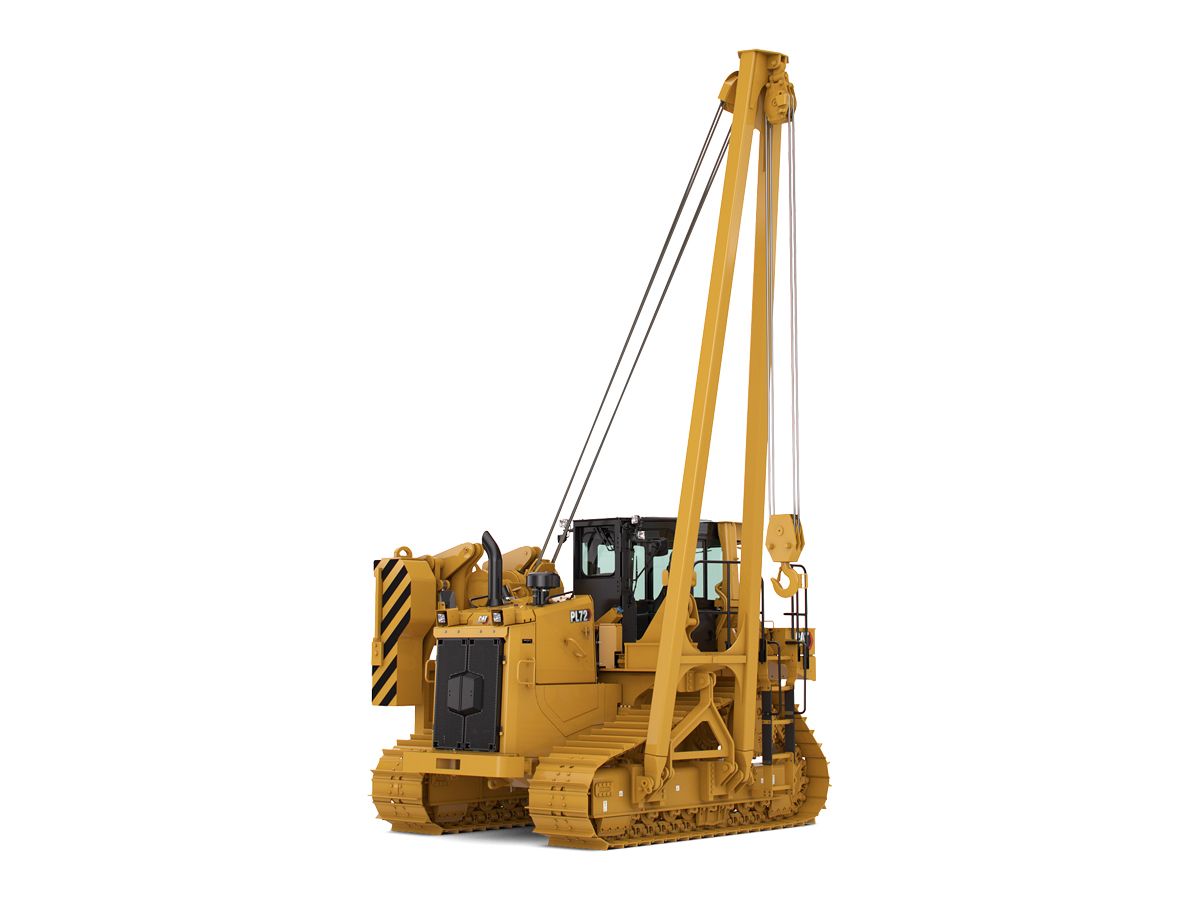 Specs Summary
Engine Model
( )
Flywheel Power
211 HP (158 kW)
Lift Capacity
90000 lb (40823 kg)
Lift Capacity

PL72 Pipelayer
Cat Pipelayers have been the standard of the pipeline industry for decades. A worldwide network of Cat dealers, in tune with the special high production needs of pipeliners, supports these durable and dependable machines. Cat Pipelayers are purpose-built to meet the unique demands of pipeline customers. And like every Cat machine, Pipelayers are designed for long life, serviceability and rebuild capability to help keep owning and operating costs low. The PL72 answers customer needs for increased lift capacity, enhanced slope capability, ease of operation, performance and transportability.
Engine Model ( )
Flywheel Power 211 HP (158 kW)
Note (1) ( )
Note (3) ( )
DEF Tank(1) 4.5 gal (US) (17.1 l)
Note (2) ( )
Net Power - Rated - ISO 9249/SAE J1349 211 HP (158 kW)
Net Power - Rated - ISO 9249/SAE J1349 (DIN) 214 mhp (214 mhp)
Lift Capacity 90000 lb (40823 kg)
6.1 m (20 ft) Boom 2004 lb (909 kg)
7.3 m (24 ft) Boom 2562 lb (1162 kg)
Ground Contact Area (ISO 16754) 8406 in² (5.42 m²)
Ground Pressure (ISO 16754) 8.2 psi (56.6 kPa)
Shoe Width 30 in (760 mm)
Boom Height (at SAE 1.22 m [4 ft] Overhang) 7.3 m (24 ft) Boom 26.28 ft (8.01 m)
Length - Track on Ground 12.17 ft (3.71 m)
Track Gauge 7.51 ft (2.29 m)
Height - Machine - Cab and ROPS 11.25 ft (3.43 m)
Track Gauge 90 ft (2286 m)
Shipping Weight 59846 lb (27145 kg)
Fuel Tank 109.6 gal (US) (415 l)
Machine Height - Top of Counterweight 8.53 ft (2.6 m)
Boom Height (at SAE 1.22 m [4 ft] Overhang) 6.1 m (20 ft) Boom 22.24 ft (6.78 m)
Track on Ground 10.7 in (3270 mm)
Width - Tractor - Counterweight Retracted 12.04 ft (3.67 m)
Emissions ( )
Air Conditioning ( )
Width - Tractor - Counterweight/Boom Removed 11.88 ft (3.62 m)
Operating Weight 68945 lb (31278 kg)
Width - Tractor - Standard Shoes 10 ft (3.05 m)
Width - Tractor - Counterweight Extended 17.65 ft (5.38 m)
Standard Equipment
NOTE
Standard and optional equipment may vary. Consult your Cat dealer for details.
POWER TRAIN
Cat C9.3 diesel engine: Electronic Unit Injection (EUI) Aftertreatment Meets Tier 4 Final/ Stage V or Tier 3/Stage IIIA equivalent emission standards, depending on region of sale.
Aftercooler, air-to-air (ATAAC)
High performance single plane cooling system
Coolant, extended life with protection to -37 C (-34F)
24V electric start
Zero speed hydraulic fan, reversing and hydraulically driven, electronically controlled
Filter, air with electronic service indicator
Final drives: Four double reduction planetary
Fuel priming pump, electric
Parking brake, electronic
Precleaner, strata-tube dust ejector
Prescreener
Starting aid, ether
Torque divider
Transmission, electronically controlled 3-speed Powershift
Wastegate turbocharger
Water separator
OPERATOR ENVIRONMENT
Rear Vision Camera
Armrest, adjustable
Deactivation switch, hydraulic controls
Advisor operator interface: Electronic monitoring system, Diagnostic service information, Operator preferences
ROPS
Decelerator pedal
Dual brake pedal
Seat belt, retractable
Load Moment Indicator (LMI)
Heater and ventilation
Differential steering control, with touch shift
Storage compartment
PIPELAYING EQUIPMENT
Block and hook with latch
Counterweights, extendible segmented
Winches, hydraulic actuated and electronically controlled
ELECTRICAL
Alarm, backup
Batteries, four maintenance free heavy duty
Converter, 12V, 10 amp with one outlet
Horn, forward warning
Lights, two front, two rear
Starting receptacle
Machine disconnect switch
Machine diagnostic connector
Boom and counterweight limit switch
UNDERCARRIAGE
Carrier roller
Track roller frames
Hydraulic track adjusters
Master links, two piece
Non-suspended undercarriage
Rollers and idlers, lifetime lubricated
Sprocket rim segments, replaceable
Track guiding guards
Medium service grouser 760 mm (30 in) Sealed and lubricated track (48 section)
OTHER STANDARD EQUIPMENT
Bumper, front with towing device
Drawbar, heavy duty
Ecology drains: Engine oil, coolant, hydraulic oil, torque converter, fuel tank, power train case and transmission
Enclosures, perforated engine
Hood, perforated
Bottom guards, hinged
Guard, hinged radiator
Hydraulics, independent steering and work tool pumps
Hydraulic system, electronically activated for hook, boom and counterweight control
Oil cooler, hydraulic
Product Link ready
S-O-S sampling ports
Steering, electronically controlled power differential
Vandalism protection for fluid compartments
Optional Equipment
NOTE
Standard and optional equipment may vary. Consult your Cat dealer for details.
OPERATOR ENVIRONMENT
Cab with air conditioning, heat and 150 amp alternator
OROPS with heat and 150 amp alternator
Cloth air seat
Deluxe seat
Vinyl seat
Heated seat
UNDERCARRIAGE
Arctic rollers
Standard rollers
TECHNOLOGY PRODUCTS
PIPELAYING EQUIPMENT
Boom and cables 6.1 m (20 ft)
Boom and cables 7.3 m (24 ft)
OTHER OPTIONAL EQUIPMENT